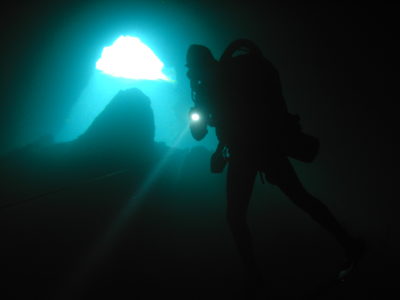 Project Description
From 2003-2005, we provided cave diving support at several locations in the Exumas, Bahamas for Dr. Marc Slattery of the University of Mississippi. Numerous new sponge species were discovered which revealed potential in the discovery of new natural products. This prompted our keen interest in natural products discovery, and an emerging business venture to provide biologics to the biotechnology community. This 'bioxploration' remains a program priority.
The blue holes have been the subject of Bahamian folklore and scientific intrigue. They remain largely unexplored from a scientific standpoint and are quite likely home to countless important breakthrough discoveries. These cave systems, and their treasure trove of discoveries, are also under threat of local developments and growing human population in these remote areas. Conservation of the Bahamian blue holes is critical.
Subsequent cave missions have been undertaken to support other science tasks, and to evaluate new modes of intervention.
More information…
.: Bahama Caves Research Foundation
.: The Inland Blue Holes of Abaco